Trump Draws Penis on Tillerson's Forehead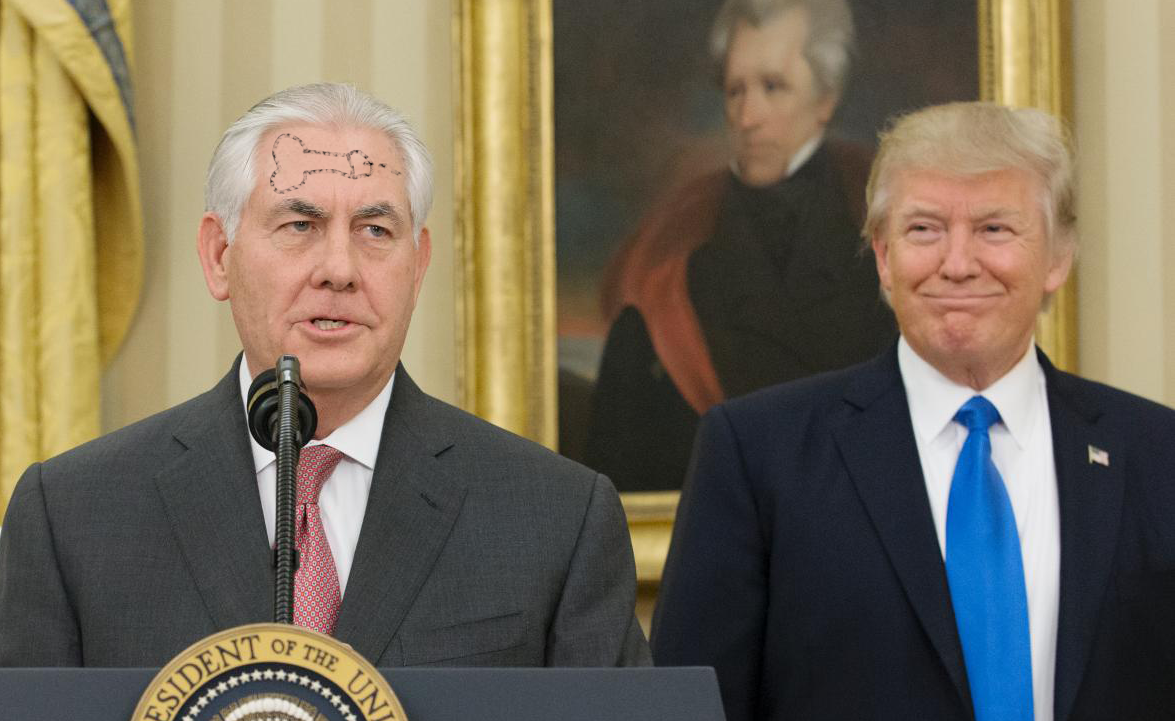 In a shocking escalation of his feud with Rex Tillerson, President Trump drew what appeared to be a penis on the forehead of his Secretary of State, before a nationally televised press conference. This comes on the heels of an NBC News article that claimed Tillerson had wanted to step down after coming to the realization that the president was a "f**king moron".
Trump was reportedly furious with the article and went to far as calling the news organization "fake news".
Tillerson had been napping in the briefing room before making another pledge of allegiance to the president, when aides claim they were unable to stop Trump from sneaking into the room.
While known for his petty squabbles with world leaders and members of his own staff, this marks the first time the president has drawn a penis on a cabinet members forehead before a nationally televised broadcast.
"He used to do it all the time, but when [John] Kelly came in he removed all the Sharpies from the Oval Office," said a staffer speaking on conditions of anonymity. "Then he started blowing spitballs during our staff meetings so now we can't drink anything with a straw."
Chief of Staff John Kelly was brought in last month to bring order to a White House in chaos. Leaks and embarrassments briefly seemed to subside, but the penis brings to question whether Kelly has once again lost control of the president.
This past month, Trump has had some of his most embarrassing weeks since his election, with attacks on the right to protest, a humiliating visit to Puerto Rico, and an expanding Russia investigation. Insiders claim the president has been lashing out at those around him for making him look bad. "Two days ago he gave Mnuchin an over the top wedgie and Ivanka had to stop him from giving [Attorney General] Jeff Sessions a swirly in the West Wing executive bathroom," the staffer added.
For the time being, Kelly has taken away his nuclear launch privileges and continues to remove any tools the president might be able to use in retaliation for his flailing image as a leader. Complained the staffer, "I'm just looking forward to being able to wear underwear again."