White House Claims "Boos" at World Series Were in Honor of Halloween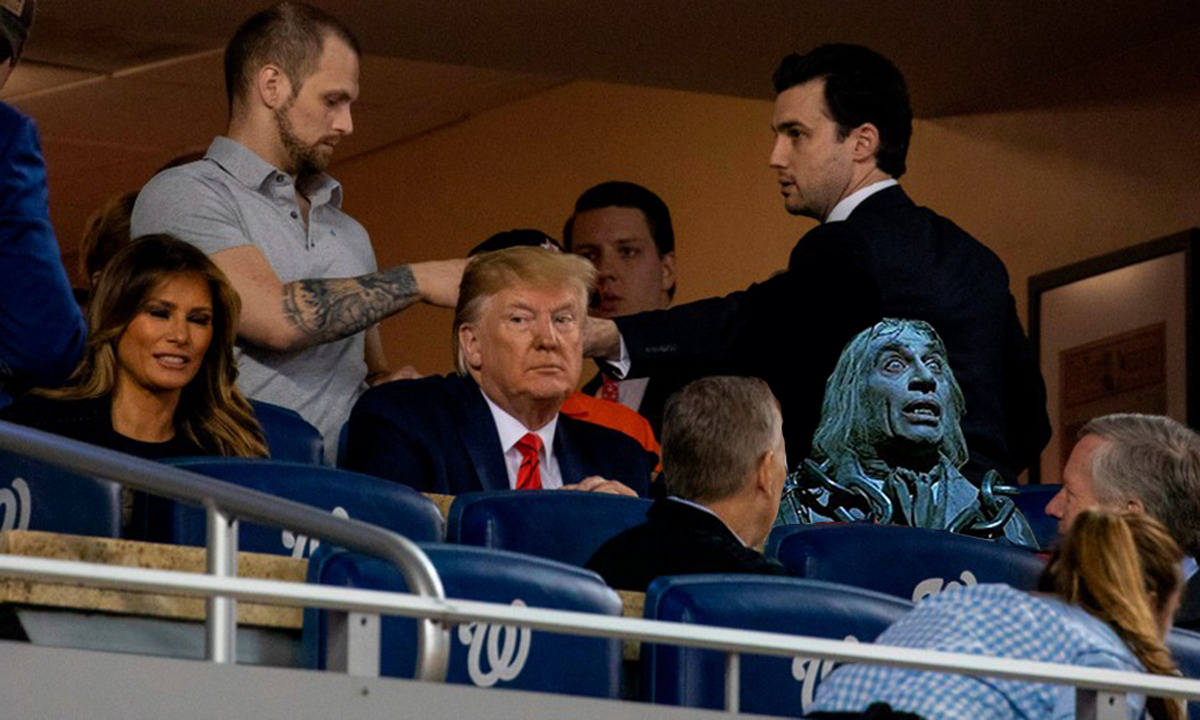 WASHINGTON, DC – Doubling down on their assertion that the "Boos" heard during last night's telecast of the World Series were not meant to insult the President, White House Press Secretary Stephanie Grisham claims many of the 41,000 in attendance at Nationals Park were simply making ghostly sounds in honor of Halloween.
Immediately after the game, the official White House Twitter account stated "biased television editing" was to blame for what appeared to be 100 decibels of booing that coincided with the introduction of the president.
After dozens of live broadcasts countered that claim, along with hundreds of videos recorded by the fans in attendance, the White House walked back its denial and said the booing was in fact a playful attempt by the baseball fans to scare the president.
RELATED: Trump Advisors Urge Him to Degrade More White People
"What started as a festive holiday joke has been misrepresented by the biased MSM to make our president look bad," said Grisham in a statement, "Since it's nearly impossible to synchronize 41,000 people, what was meant to be a short spooky BOO! ended up sounding like a longer less spooky Booooo."
Shortly after the booing subsided, "Lock Him Up!" chants echoed through the stadium. Grisham noted that "many ghosts, ghouls, and goblins are known to wear chains, which is what I assume that was referencing. I'm pretty sure Bob Marley was wearing chains in The Christmas Carol." Presumably, Grisham was referring Jacob Marley from the Charles Dickens novel 'A Christmas Carol', whom she later claimed was also seated in their row.
President Trump's approval ratings have taken a substantial dip since the start of the impeachment inquiry into his alleged attempts to solicit election interference from the Ukraine in exchange for US aid. Whether this was reflected in last nights World Series crowd remains a mystery.
Also in attendance were Sen. Lindsey Graham (R-S.C.) and Reps. Steve Scalise (R-La.), Mark Meadows (R-N.C.), Liz Cheney (R-Wyo.) and Matt Gaetz (R-Fla.), who glanced around nervously as the President appeared uncomfortable while the Halloween prank played out.
Added Grisham, "Maybe the lame stream media should spend Halloween reporting on the illegal WITCH HUNT being perpetrated by the crybaby Dems and George Soros. That's something that's actually scary."
Judge for yourself:
WATCH: President Trump met with loud boos as he is introduced at the World Series in Nationals Park on Sunday night. pic.twitter.com/4RTW8ZqxqP

— NBC News (@NBCNews) October 28, 2019
President Trump was booed loudly by the fans at Nats Park when he was shown on the big screen.
Then came a loud chant: "Lock him up." @wusa9 pic.twitter.com/LBbgSAHd6k

— Adam Longo (@adamlongoTV) October 28, 2019