Julian Assange's Cat Requests Asylum From Assange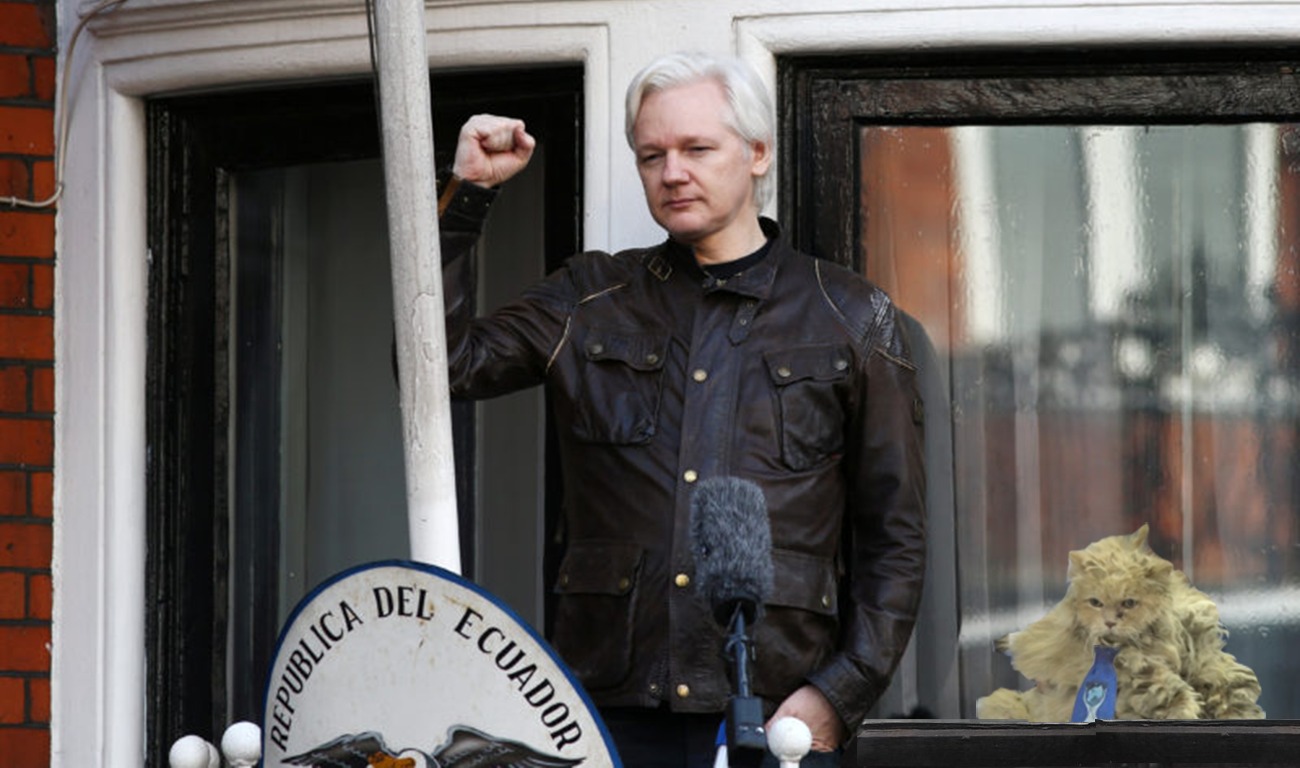 LONDON, ENGLAND — Shortly after the arrest of a hobo-like Julian Assange, the Wikileaks founder's cat has requested extradition from the Ecuadorian Embassy in London. Mr. Assange and his cat, Pee Pee Leaks, had been squatting in a small room in the embassy since 2012 after being granted asylum by the then Ecuadorian president Rafael Correa.
In the years since, Correa has left office and Assange was been embroiled in ongoing conflicts with embassy employees over his internet usage and slovenly lifestyle. Mr. Assange's cat has also been a sore spot for workers who claimed the smell of cat urine has subsumed the entire property.
Animal rights activists had been fighting for Pee Pee Leaks release from captivity for years, but Assange had been unwilling to negotiate for the cat's freedom. Instead, the Russian Blue was often spotted in ties longingly peering out the window at the outside world.
"No animal should live its entire life within the confines of a few rooms playing dress up with a madman," said PETA spokesperson Mara Kingsley. "All creatures need to feel the breeze in their fur from time to time."
Embassy employees have supported the release of the cat who they claim was protesting his isolation by defecating throughout the office and vomiting on paperwork. "Half of the visas we approve smell like cat piss by the time they get back to their holders," claimed embassy employee Fernando Ortiz.
Pee Pee Leaks has been confined to two small rooms since Mr. Assange entered the embassy in 2012 to avoid rape charges in Sweden and possible extradition the US for conspiring with Russia in the 2016 election.  Since then, he would frequently rubs his rectum on the alpaca rugs and tip over Mr. Assange's buckets of urine, compounding the foul odors in the workspace.
RELATED: Devin Nunes Sues His Feelings for Hurting Him
Many guests reported being frightened by the unkempt feral beast lurking in the shadows of the embassy and feel he is no condition to care for a pet. After the arrest of his owner, many are asking what will become of the animal who remains within the confines of the Embassy.
Lawyers for Pee Pee Leaks point to the cat's dilapidated condition in calls for asylum status. "The cat hasn't bathed since 2014 and is basically a giant matted dread lock with two sad eyes peeking out," complained Ortiz.
Assange advocates say the cat should be held by London police alongside its owner to calm his growing anxiety. Pee Pee Leaks claims of Assange "he smells like a litter box" and should thus be granted asylum from the Wikileaks founder.