As Women Flee Oppressive Laws, Red States are Starting to Feel 'Super Gay'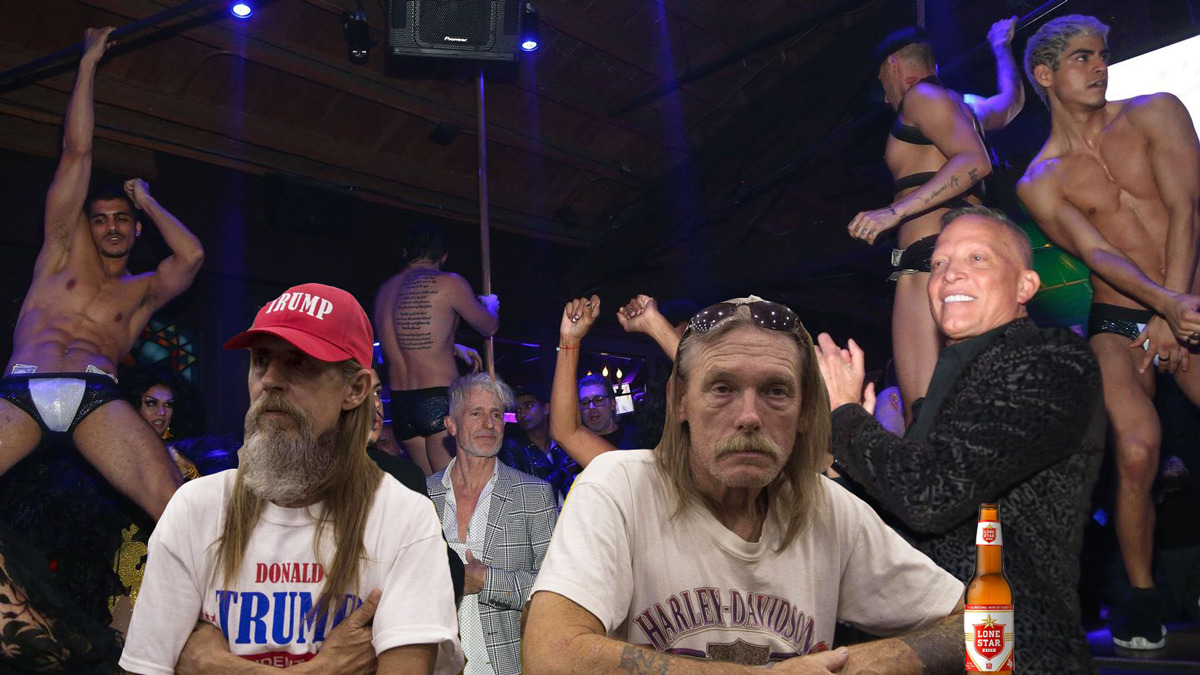 HOUSTON, TEXAS — After the recent Supreme Court decision to overturn Roe v Wade, and the continued passage of laws meant to subjugate women in Texas, Oklahoma, Florida and, Kentucky, many female residents are simply moving to neighboring states that still allow them to maintain autonomy over their bodies. At first celebrating the exodus, many male residents are beginning to reckon with the consequences of a heavily male shewed population.
"We just wanted to take away women's rights," commented one local supporter of the abortion ban,"But we weren't expecting it to get so goddamn SUPER GAY here!"
As bars, restaurants, and other social gathering seem to attract fewer and fewer single women, customers are becoming increasingly uncomfortable with the 'gayness' of it all.
RELATED: Clarence Thomas Hospitalized to Remove Wife's Hand from Rectum
"I'm not gay or nothin'," stated another resident drinking a Lite beer at local gay bar Flaming Saddles, "But we took away all the homosexual rights long before the women. So even if we did, and I'm not saying I would, participate in gay sex, it would be illegal. So we're just supposed to never have sex again? That's pretty gay."
Texas recently approved one of the most restrictive abortion laws in the country and a GOP lawmaker recently introduced a bill to execute women who do have an abortion in the state. These laws, along with the general unpleasantness and latent homosexuality of many of the states most vocal proponents of anti-women legislation, has compelled many women to leave the state.
"There's that old joke that Texas men need big trucks, big guns, and big hats, because they're compensating for something," said one former Texas woman, "It's not a joke. Plus what single woman wants to live in a state where one drunken mistake can tie you to one of those knuckleheads for the rest of your life?"
RELATED: Ghost of Democracy Still Haunting Elevator in Senate Office Building
"Just to be clear, I have a big dick that I like putting inside females without consequences," said Texas GOP State Rep. Bryan Slaton who introduced the execution bill, "But I simply believe women should be forced to have children and executed if they don't. And after the kid is born it's no longer our problem and the mothers should be on 100% their own with no financial assistance whatsoever. Why is this so hard for you woke people to understand?"