Bannon Wins Inaugural White House Baby Eating Contest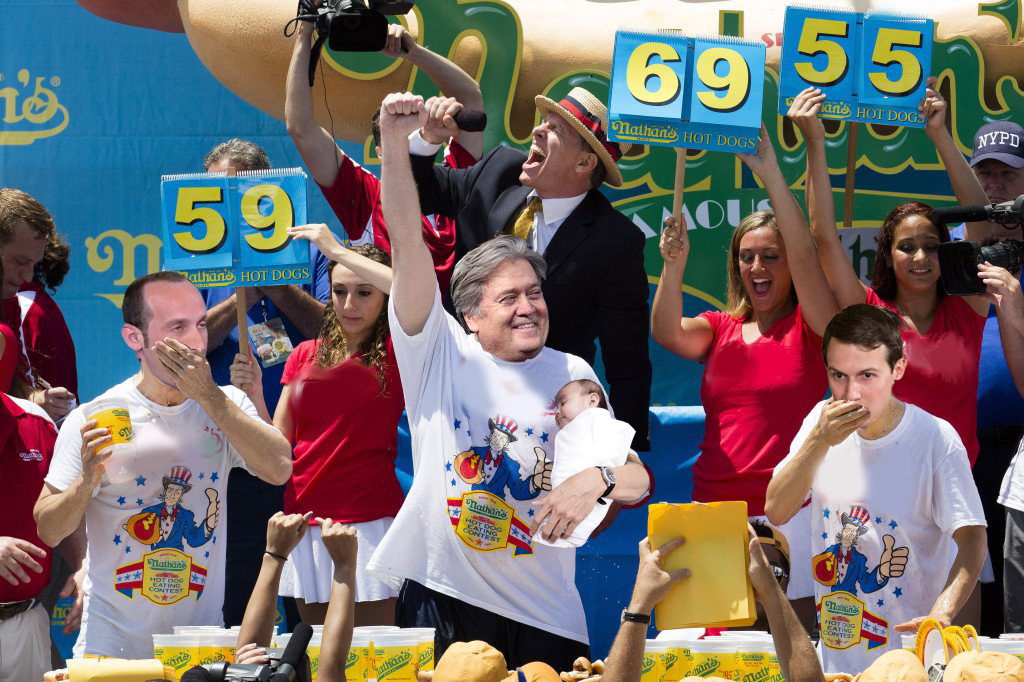 Today, the White House kicked of the holiday season with its first inaugural baby eating competition. Although the unusual event has sparked controversy, president Trump shrugged off critics and proceeded with the contest at his Mar-a-Lago resort.
Trump addressed the crowd before the starting bell, "No matter what I do, the fake news will always put a negative spin on it. I can't do anything right. I'm sure CNN, NBC and the failing New York Times will have nothing positive to say about todays event, but we're gonna do it anyways."
Past and present staff and appointees gathered as competitors and onlookers, in an event meant to "add a greater sense of community" to the fractured White House.
Former White House Chief Strategist Steve Bannon, considered by many to be anti-social and even hostile towards other human beings, was jubilant and talkative from the onset of the competition, "I think this a great occasion and one of the first things I advised the president to initiate when I was still in the White house," said Bannon after devouring an incredible 69 babies in thirty minutes.
Senior White House Advisor Stephen Miller, considered the favorite by many, finished with a disappointing 59 babies, "Honestly, I had about a dozen babies for breakfast and wasn't expecting Stevie [Bannon] to come out so strong. He was just an animal out there," Miller commented after congratulating the Breitbart editor for his win.
The president's son-in-law Jared Kushner rounded out the top three with 55 babies, "I have no idea where Steve puts those things. He coulda kept going," Kushner quietly whispered into the ear of a reporter.
Bannon continued eating even after the final bell rang and had to be pulled away from the table by White House security.