Amazon Removes White Supremacist Halloween Costume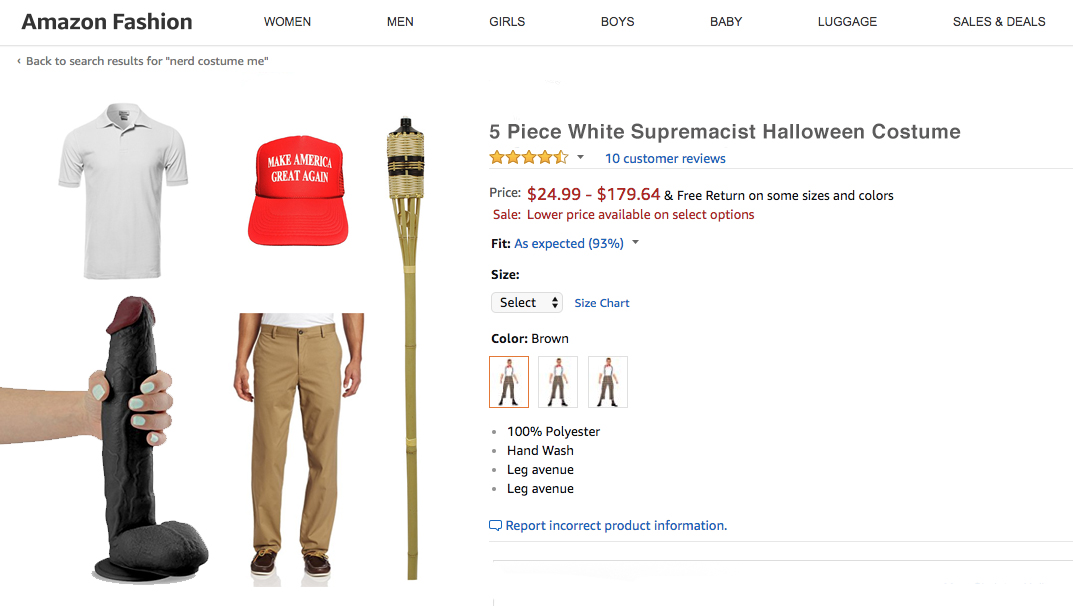 Amid public outcry, Amazon was forced to remove a supremacist Halloween costume from their online store.  Sales of the item had been lagging because of confusion over the contents of the package.
The 5-piece set came with the modern Nazi uniform of khaki pleated pants, a red MAGA hat, a white collared shirt, a backyard barbecue tiki torch, and a long, thick, black, latex stool to sit on during lemonade breaks.
The outfit has been seen at several high profile marches including twice in Charlottesville over the past two months. Richard Spencer, better known as the "hipster Hitler", led the second march chanting, "You will not replace us." Previously, they had yelled "Jews will not replace us", but this time opted for 'You' to make it less obvious that they were Nazis.
"I just bought twenty of the Amazon outfits for my top lieutenants," the Nazi leader stated,"And sent them to their parents houses where they all live."
Spencer decided to organize the second march because many of his followers were growing restless having nothing else to do on a Saturday night in a college town. "I used to go to Walmart and clear out their tiki torches and citronella (to keep the mosquitos away), but the Amazon package was amazing and the stool is quite comfortable," Spencer continued. "Mob marches are tiring. Most of these guys aren't used to standing on their feet for more than 15-20 minutes at a time."
Spencer complained. "People always talk about how hard it is to be a minority or a woman in this country, but they always forget about white men. Who's standing up for our rights?" Spencer complained, "Have you ever tried to buy a house without a job as a white man? It's not extremely easy."