Trump Finds Out Nikki Haley is Not White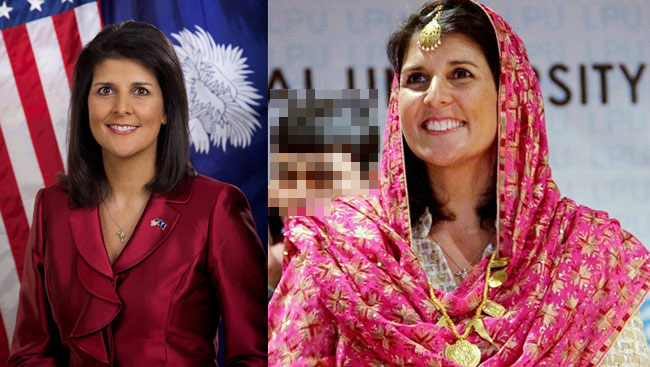 WASHINGTON, D.C. — The highest ranking non-white member of the Trump Administration has stepped down from her position as United Nations ambassador. After 19 months, Nikki Haley has resigned from her position as one of the nations top diplomats.
Born Nimrata Randhawa to Sikh immigrants, Nikki Haley made every attempt to assimilate into white culture in order to rise through the ranks of the Republican party. But even ignoring the racist/misogynist views of the administration did not allow her to outrun her past.
"I let the woman thing slide because there's nothing she can do about that," said Trump at a press conference, "But when I found out she's an Indian, and not the good kind, I just had to let her go."
Haley joins an ever growing list of cabinet officials who can not find a long term place in the Trump team. Although she penned an explosive New York Times Op-Ed last month entitled "I Am Part of the Resistance Inside the Trump Administration", she did little else to stop the cancerous growth of her boss and his brand of Trumpism.
Many believe the op-ed was the cause of her dismissal, but Trump insisted it was discrimination. "I'm always fair, I just don't trust women and the coloreds," he added.